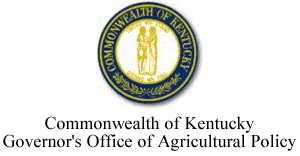 Kentucky Agricultural Development Board Approves $825,716 for the Kentucky Poultry Federation
FRANKFORT, KY - Jun. 19, 2007 -- The Kentucky Agricultural Development Board approved the Kentucky Poultry Federation for $825,716 in state funds. This proposal was one of the seventy-six projects, totaling $4,931,814 approved at the June Kentucky Agricultural Development Board Meeting.
The Kentucky Poultry Federation will use these funds for a two component project including Statewide Educational Programming and a Poultry House Evaluation Project.
The educational needs of producers vary by location and integrator; therefore, the educational component has been designed around each of the integrators. The three mechanisms that makeup the educational components of the proposal are Statewide Educational Programming, the formation of six Integrator Educational Advisory Committees, and the development and dissemination of 800 poultry management manuals.
Poultry House Evaluators will evaluate the energy use of poultry buildings for the Poultry House evaluation component of the project. The poultry producer will ultimately receive a report that includes recommendations on how to improve energy efficiency and productivity.
Governor Fletcher and the Kentucky Legislature continue to make great strides toward lessening Kentucky's dependence on tobacco production while revitalizing the farm economy by investing 50 percent of Kentucky's Master Settlement Agreement into the Kentucky Agricultural Development Fund. To date, Kentucky has invested more than $244 million to an array of county, regional and state projects designed to increase net farm income and create sustainable new farm-based business enterprises. The diversification programs represent more than 2,972 projects that have been funded through Agricultural Development Fund, since the inception of the program in January 2001.
For more information on this project contact Melissa Miller with the Kentucky Poultry Federation, at (859) 373-0761. To learn more about cost-share grant and loan programs available though the Agricultural Development Fund contact the Governor's Office of Agricultural Policy at (502) 564-4627.